LEED Rating:  Gold
LEED Rating System:  LEED NC 2009
Certification Date:  March 2018
Address:  1001 E. 17th Street, Bloomington, IN 47408
Campus:  IU Bloomington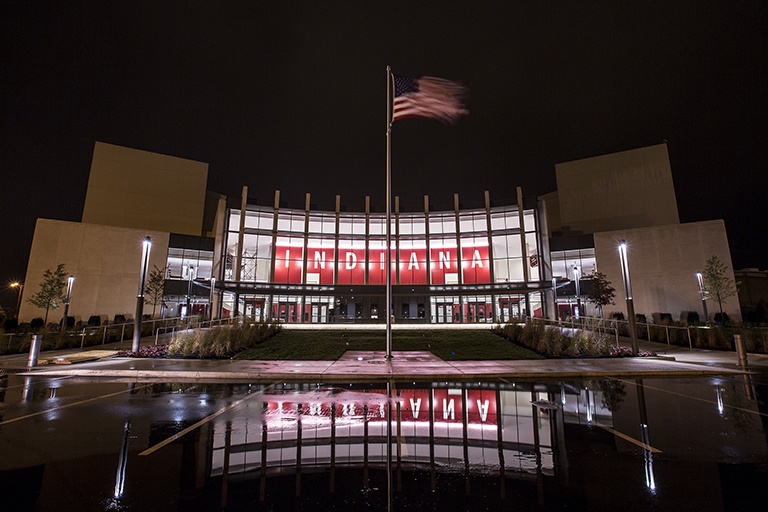 Project Highlights:
The building is located within proximity to useful and exciting amenities in Bloomington Indiana.
Bus routes are conveniently located close to the building.
Preferred parking is held for carpools and high efficiency vehicles.
Roofing materials are white to reduce the heat island effect.
Landscaping and irrigation systems have been designed to reduce potable water consumption for irrigation by 51% and reduce the total water used for irrigation by 51%.
The building uses 42% less water than a similar building due to its efficient sinks, urinals and toilets fixtures.
The project has achieved an energy cost savings of 29% for the entire building. The total predicted annual energy consumption for the project is 353,653 kWh/year of electricity, 8,993 therms/year of purchased chilled water, and 3,819 therms/year of purchased steam.
All of the building electrical power will be supplied from renewable power sources during its first two years of operation
During construction the project diverted 79% of the on-site generated construction waste from going into landfills.
The addition to Simon Skjodt Assembly Hall is made of 17% recycled materials and 37% materials that were sourced within 500 miles of Bloomington.  
All painting, coatings, adhesives and sealant products used on the inside were low VOC products
The curtainwall on the south side of the building maximizes daylighting potential while its horizontal sun shades reduce heat gain and glare.
LEED Scorecard Overview:
| | | |
| --- | --- | --- |
| Credit Category | Points Earned | Points Possible |
| Sustainable Sites | 19 | 26 |
| Water Efficiency | 6 | 10 |
| Energy & Atmosphere | 13 | 35 |
| Materials & Resources | 6 | 14 |
| Indoor Environmental Quality | 11 | 23 |
| Innovation | 3 | 6 |
| Regional Priority Credits | 3 | 4 |
| Total | 61 | 110 |