LEED Rating:  Silver
LEED Rating System:  LEED NC 2.2
Certification Date:  December 2010
Address:  1700 Mishawaka Avenue, South Bend, IN 46634
Campus:  IUSB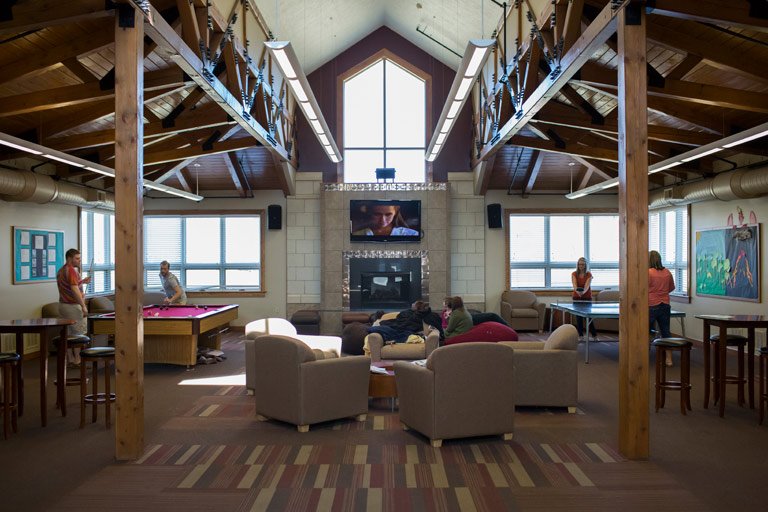 Project Highlights:   
62% of green space was planted with native and adaptive species to encourage wildlife habitation and has reduced irrigation by nearly 84%.

The rain gardens surrounding the building capture 90% of annual rainfall.

The building reduces potable water use by nearly 54% compared to newly constructed facilities.

Total energy cost reduction is more than 19% compared to typical newly constructed facilities.

During construction, a total of 35 tons (90%) of on-site generated construction waste was diverted from landfill and recycled.

18% of total building materials was manufactured using recycled materials.

Sensor technologies allow the artificial lighting to be controlled based on adequate natural day lighting and occupants entering and leaving the building, thus reducing the amount of energy used for lighting and cooling.

Nearly 95% of regularly occupied space uses natural day lighting through exterior windows.

The building features a geothermal heating and cooling system.

A high-efficiency water softener system, water-reducing fixtures, and waterless urinals are integrated in the building.
LEED Scorecard Overview:
| | | |
| --- | --- | --- |
| Credit Category | Points Earned | Points Possible |
| Sustainable Sites | 9 | 14 |
| Water Efficiency | 3 | 5 |
| Energy & Atmosphere | 4 | 17 |
| Materials & Resources | 6 | 13 |
| Indoor Environmental Quality | 10 | 15 |
| Innovation | 2 | 5 |
| Total | 34 | 69 |