LEED Rating:  Gold
LEED Rating System:  LEED NC 2009
Certification Date:  December 2016
Address:  301 University Boulevard, Indianapolis, IN 46202
Campus:  IUPUI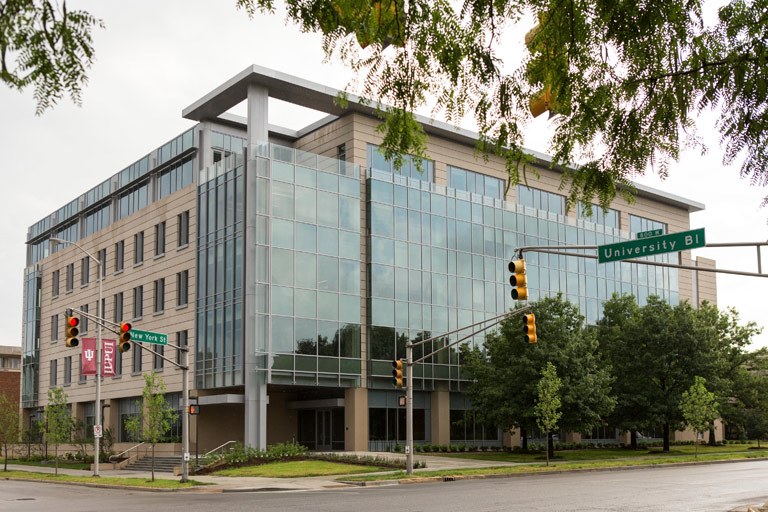 Project Highlights:
The building is located within proximity to useful and exciting amenities in downtown Indianapolis.
Bike lanes and bus routes are conveniently located close to the building.
Preferred parking is held for carpools and high efficiency vehicles.
A stormwater detention system was designed to reduce stormwater runoff from the site by 92%.
A hydrodynamic separator treats water quality before it enters the stormwater detention system.
University Hall uses 32% less water than a similar building due to its pressure and gravity assistance, aerators, and efficient sinks, urinals, toilets, and showers.
Of the 1,115,988 kWh of electricity that University Hall is estimated to consume per year, 781,200 kWh is sourced from IPL's Green Power Option.
The curtainwall on the south side of the building maximizes daylighting potential.
An "L" shaped floor plan creates more perimeter for daylighting to access the interior of the building.
Horizontal and vertical sun shades on the curtainwall reduce heat gain and glare.
University Hall is made of 43% recycled materials and 60% materials that were sourced within 500 miles of Indianapolis. 
LEED Scorecard Overview:
| | | |
| --- | --- | --- |
| Credit Category | Points Earned | Points Possible |
| Sustainable Sites | 24 | 26 |
| Water Efficiency | 5 | 10 |
| Energy & Atmosphere | 5 | 35 |
| Materials & Resources | 7 | 14 |
| Indoor Environmental Quality | 9 | 15 |
| Innovation | 6 | 6 |
| Regional Priority Credits | 4 | 4 |
| Total | 60 | 110 |